428 Collective

Healdsburg, Ca.
2012-Present
Artist

428collective is a group of 11 contemporary artists who live in Sonoma County. Through our diverse events and exhibits, our mission is to enrich the conversation about art and its relationship to place—specifically rural areas that do not have support networks for experimental, risk taking art.

Selected works:

428CSA. An annual year-long art subscription from the artists of 428collectiv

Tree Portraits. An exhibition of large-scale redwood tree stump rubbings made by local students, ages 3-9. Work was created through a three-week class hosted by 428collective.

428collective takes over Blomster Gallery: 10 months,10 solo shows. Studio Blomster,
Guerneville, CA. Each artist in the collective took over the gallery space.

Salon. A monthly public art salon for Sonoma County artists. One artist is invited each month
to present work at the 428collective headquarters.

Howl. A public street performance and intervention. Produced in conjunction with 428collective's show, "Falling Dark."! !

Falling Dark. Collective multi-media exhibition exploring the liminal twilight hour. Perdita Productions, Geyserville, CA

Local Creatives Dinner. A public presentation of diverse local creative projects and the future
of boundary-pushing creativity.

Big Risks in Drawing. A class offered to those who never learned to draw, or are even terrified by the idea.

Art Dinner Punk Korean Food: a 428collective community dinner. Featuring the daring Korean/ american diner cuisine of Guerneville's HiFive Restaurant, local DJ performance, and a public dinner in the parking lot.

Drive-in: A pop-up public drive-in, featuring selected shorts by local filmmaker Richard
Stilwell. Participants lined up their cars in the 428 Headquarters parking lot to watch the films projected on the wall of the 428 building. Sound was provided via on-air radio station.

Cocktails and Literature. An evening of readings by local writers and poets.

Food, Faith, Museums. A lecture by local curator Carin Jacobs.

Product. Multi-media show of local art, design, and innovation. Featuring a Bay Area roving art
gallery in a truck and presentations by Sonoma County filmmakers and Chalk Hill Residency director Alice Warneke.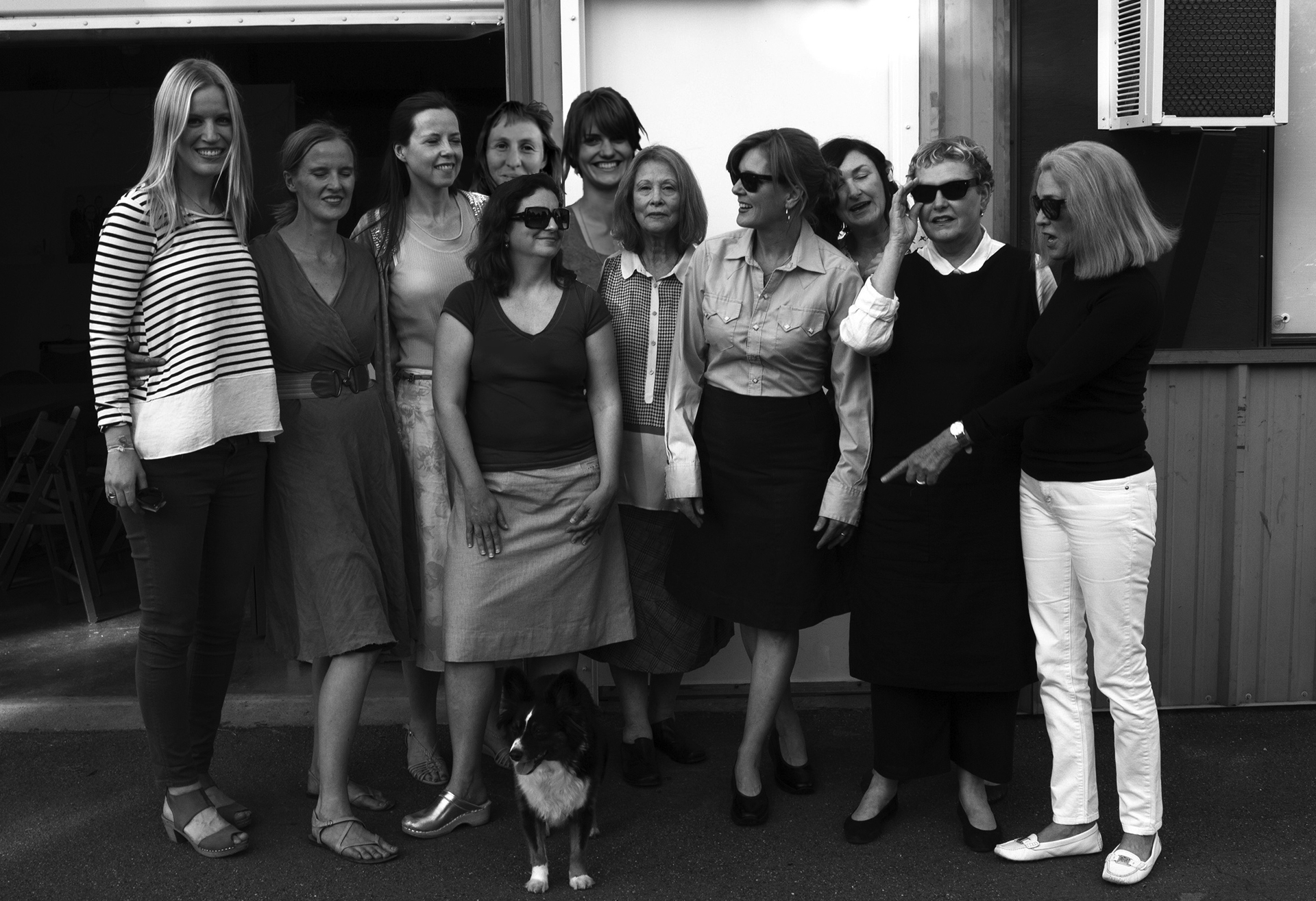 428 Collective members in front of 428 Studio, Healdsburg, Ca. 2012
Food, Faith, Museums with Carin Jacobs, Healdsburg 2012